Katie Buchanan: Go
I would love to spend a day in this woman's shoes. She intrigues me. There is something distinctly Daedalean about Katie Buchanan.
She can build a labyrinth of thought with her music, then build the wings to fly far above it. Buchanan is a workaholic, adept at every facet of the musical vibe she parlays into songs both beautifully nuanced and tangibly intimate.

---
---
Empires Unveil New Track
Announce Fall Tour Dates


Chicago's Empires have unveiled a new track entitled "Honeyblood" from their forthcoming album Orphan, out on 9/23 via Chop Shop/Island Records. The band is gearing up for a slew of tour dates to kick off the fall - the first of which will be with fellow indie rockers Augustines, starting on September 17th at the world famous Troubadour in Los Angeles. Empires will also make appearances at Midpoint Music Festival along with Austin City Limits, in addition to landing a spot on the upcoming EA Sports NHL 2015 game with their single "How Good Does it Feel."
Consequence of Sound refers to "Honeyblood" as 'expanding their intricate brand of brooding post-rock,' and also mentions the band's 'blistering, sonic assault' in reference to the guitar work. Fans can pre-order Orphan directly from Empires' official website, which will be available via all major digital retailers on September 23rd.
---
---
The Modern Electric: Watch "All We Have
Is Now" From Their Upcoming Album
"Original Motion Picture Soundtrack"


"It's just a matter of time before The Modern Electric owns the pop world." -
Scene Magazine
Compelled by heartbreak and the power of cinema, and drawing inspiration from powerhouses such as
Spoon
,
The Killers
, and
ELO
, as well as films such as
Annie Hall
and
The Graduate
, The Modern Electric's music plays out like a soundtrack to a coming-of-age film about chasing crushes, surviving loneliness, and finding close friends.
Like a favorite mixtape, the band's timeless sound transitions from heart-felt acoustic ballads to hook-driven pop symphonies all while maintaining a signature, melodic focus. Simply put, this is not a band interested in the trendy sounds of the year; their goal is to create classic and timeless music to appeal to the decades.
---
StarVista Entertainment/Time Life Unveils
Comprehensive Details On Music For
The Wonder Years Complete Series


"What would you do if I sang out of tune, Would you stand up and walk out on me?"
-- Joe Cocker's Rendition of the Beatles Classic "With a Little Help from my Friends,"
The Wonder Years
Opening Song
The List of 285 Clearances Includes Hundreds of Songs from Iconic Artists Such as
Bob Dylan, Joni Mitchell, Simon & Garfunkel, Jimi Hendrix, Smokey Robinson & the Miracles
and
The Rolling Stones
, plus Classics from
Frank Sinatra, Nat King Cole
and Many More!
Fairfax, VA, August 18, 2014
– From Joe Cocker's timeless rendition of the Beatles classic, "With a Little Help from My Friends" to the hundreds of classic rock, pop and soul hits that followed over the six seasons of THE WONDER YEARS, music became an indelible part of the beloved series, which ran on ABC from 1988-1993. Recognizing the music's significance to the program's setting, mood, storylines and characters, the TV DVD archivists at StarVista Entertainment/Time Life spent vast resources to ensure that the series was delivered in its most pristine and unedited state.
---
Eric Clapton & Friends: JJ Cale
Appreciation Album


Album Available JULY 29, 2014 On Clapton's Bushbranch Records/Surfdog Records.
Eric Clapton has often stated that JJ Cale is one of the single most important figures in rock history, a sentiment echoed by many of his fellow musicians. Cale's influence on Clapton was profound, and his influence on many more of today's artists cannot be overstated. To honor JJ's legacy, a year after his passing, Clapton gathered a group of like-minded friends and musicians for Eric Clapton & Friends: The Breeze, An Appreciation of JJ Cale scheduled to be released July 29, 2014. With performances by Clapton, Mark Knopfler, John Mayer, Willie Nelson, Tom Petty, Derek Trucks and Don White, the album features 16 beloved JJ Cale songs and is named for the 1972 single "Call Me The Breeze."
"I would like people to tap into what JJ Cale did - that's the point. I'm just the messenger; I've always felt that that's my job. I try to interpret things so that the public at large, or at least the people who listen to what I do, will become intrigued about where I got it from," said Clapton.
---
Late Night's Original Rock n' Roll Show Is Back!
The Midnight Special Collector's Edition


Burt Sugarman's groundbreaking late night variety show, featuring live performances from the biggest stars of the time will be available from StarVista Entertainment/Time Life in three configurations.
Artists featured include Aerosmith, Alice Cooper, Bee Gees, Earth, Wind & Fire, Electric Light Orchestra, Fleetwood Mac, Gordon Lightfoot, Heart, Helen Reddy, Jim Croce, John Denver, KC and the Sunshine Band, LaBelle, Linda Ronstadt, Marvin Gaye, Captain & Tennille, Peter Frampton, REO Speedwagon, Steely Dan, The Doobie Brothers, Tom Petty and the Heartbreakers, Village People, and many more.
The collector's edition will be available exclusively online at
midnightspecialdvds.com
-- Pre-order begins August 12; retail releases drop September 9.
---
Diamante Covers Nirvana's
"Smells Like Teen Spirit"


LA's favorite rocker chick, Diamante, premiered her cover of the iconic Nirvana track yesterday on Revolver Magazine. The cover proves to her fans that even at the young age of 17, Diamante has exquisite musical tastes and can rock just as hard as some of her idols.
"Smells Like Teen Spirit is the best track to connect those who don't know me yet to something familiar. This cover is my own token of mad respect for Kurt Cobain and Nirvana." - Diamante in a recent interview with Revolver Magazine
(Photo by Vik Soos)
We were not expecting to be told they write song titles on apples, then bob for the crunchy red fruit to choose which ideas to pursue. Oh, yeah, you read that right.

Columbus, Ohio has Nick D' & The Believers. A band that rocks! And they seriously do rock 'n' roll. We didn't find a single person who wasn't smiling and wanting more after we had them listen to Nick D' & The Believers' music. Talent. Fun. BFF material. Definitely BFF material!
---
---
LTrain: Party at Bedford

Beginning as subway buskers, Queens funk rock band LTrain's story is a New York story. As featured in The Noise Beneath The Apple, an art book about the city's street performers, the band began in January 2011 when Crystalla Gonzalez (vocals) and Gabriel Castellar (guitar/vocals) started busking on the L Train platform, the subway connecting Queens to Brooklyn to Manhattan.
---
Every Flavor Weather Machine: Bullhorn (Get To Work)

New single from NYC-based Wonka-funk, key-board driven octet, Every Flavor Weather Machine!
---
The Antics "Send It Out" EP to be Released Tuesday, August 26 on iTunes: Listen to the Title Track

Creating a seamless clash of rock through the ages with a modern twist, the cool threesome is quickly becoming hometown heroes. With new EP SEND IT OUT the follow up to their debut album, Running Faster, The Antics show no sign of stopping along the way on their road to success.
---
---
---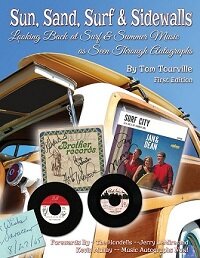 Tom Tourville's Sun, Sand, Surf & Sidewalls blew all of us, at Surf Rock Music, away. It's chock-full of early 1960's surf, garage and hot rod bands and artists. Autographs, photos, fliers and information populate the book from cover to cover.

There is no wasted space. There is no filler. Sun, Sand, Surf & Sidewalls is jam-packed with an enormous amount of collectible material. A remarkable achievement, Sun, Sand, Surf & Sidewalls is a benchmark surf, garage and hot rod publication.

---
Mike's Jazz Guitar Classes:
Connect with some of the greatest jazz guitar and bass minds in the world. Jazz lessons and classes for intermediate and advanced guitarists and bassists.