Firstborn: Old Machinery
These men can play. Their musicianship rates an eleven on a scale of one to ten.

Firstborn's EP features four tracks of hard-hitting, hard-driving music. One thing is for certain, it's balls-to-the-wall all of the way.

---
---
DIAMANTE PREMIERES OFFICIAL "BURNS" MUSIC VIDEO
PEAKS AT #6 ON BILLBOARD HOT SINGLES
NOW AVAILABLE ON iTUNES

Rising artist Diamante released the official music video for her ballad, "Burns." The video features reenactments of love lost and the pain that follows a broken heart. The song is co-written and produced by Kevin Savigar (Rod Stewart, Daughtry) and available on iTunes. "Burns" charted at #6 on Billboard's Hot Singles, while her previous single, "Savage," is back at #5.

Diamante is not new to receiving praise. She scored two wins at the 2013 Indie Music Channel Awards and at only 17 years old, she took home Best Rock Record for two years in a row. In 2012, Diamante was also the winner of the Indie Music Channel Awards' Best Young Rock Artist, Best Rock Recording, Best Music Video, and Teen Artist of the Year.

---
---
JOAN JETT & THE BLACKHEARTS PREMIERE OFFICIAL VIDEO FOR "ANY WEATHER"
New Album Unvarnished Available Now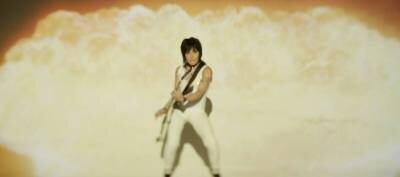 Rock n' roll icon JOAN JETT & her Blackhearts have unveiled the anticipated official music video for the single "Any Weather," which comes via her newly released album Unvarnished. Joan is fresh off the heels of her surprise performance at iHeartRadio Festival and her intimate record release show at Santos Party House in NYC. The new video - directed by Kevin Kerslake - was shot in Los Angeles, CA, and showcases a never-before-used camera technique to give the production a raw and classic aura. Joan has said that Unvarnished is the most introspective album she's ever done. While still keeping to her signature sound, Jett observes her own life as well as life around her.

---
NIRVANA "CREATE YOUR OWN POSTER" APP NOW LIVE!

Fans Can Create Their Own In Utero Poster For a Chance to Win a Kurt Cobain Mustang Guitar!


In celebration of the newly released In Utero 20th Anniversary re-issue, fans will have the opportunity to create their own poster for a chance to win a reproduction of Kurt Cobain's Fender Mustang. The contest will be open to fans across the globe, with one U.S. first prize winner and one international first prize winner. Three second prize winners will receive a limited edition In Utero litho & uncut proof sheet, and ten runners-up will receive one of the new In Utero 20th Anniversary t-shirts.




The In Utero 20th Anniversary Re-Issue is re-mastered and now available on CD, 2CD Deluxe, 3CD + DVD, Super Deluxe Box Set, and 3LP Vinyl Edition.
---
---

Learn the Art of Double Picking
So, you want to learn the art of double picking, that magical string stroking that makes it all happen. Well, you can and it's not as difficult or mysterious as some people think. With time and effort you'll wow and amaze your family, friends, fans and the grouchy next door neighbors.
The Grande Bois: Meltdown
Ah, yes. It was on another night that you and I were driving through Elkhorn, Wisconsin. We missed a road sign, took a wrong turn and got lost on Bray Road.

It was a dark and stormy night. Wipers were swishing fast to keep up with the pelting rain and the gas tank was draining fast. We sat huddled together, fearing the unknown, driving on and on through the darkness. We thought it was the end.
---
Redlight King Premieres Official Video for "Times


Are Hard"
Announces Tour with Seether + Festival Dates. Redlight King has released the official music video for the single "Times Are Hard" from the band's sophomore release, Irons in the Fire, as the song hits Top 15 at Active Rock radio. "Times Are Hard" is a stirring track with emotional and moving lyrics penned by frontman Kaz, and brought to life in the video which was directed by Strati Hovartos and produced by John Oakes.

---
Saliva Teams with Pandora to Stream "Rise Up"

Multi-platinum, Grammy-nominated hard rockers SALIVA are pleased to reveal their entire new album, Rise Up, exclusively via stream with Pandora today! Find it in the Pandora app via the "Pandora Premieres" station. If you're in the mood for just a taste of Rise Up or you don't have the Pandora app, head over to the band's official YouTube page to watch a brand new album teaser!

---
Mohammad Unveils New Track "We Will Rock You"
LA-based singer and musician Mohammad announced today his first single, a remake of Queen's iconic "We Will Rock You." The track is available on Mohammad's Sound Cloud and will be released on iTunes Tuesday, May 13th. His instrumental and vocal talent has led to his own style of music, tailored to his own sensibilities as a musician and an artist.

---
Dot Hacker to Release 7" for Record Store Day

With Record Store day less than a week away, Dot Hacker will release a special 7" on April 19th via ORG Music, limited to 1,000 copies worldwide. The 7" will feature two tracks, including their most recent single "Whatever You Want" which you can preview HERE. The record will also feature one other track entitled "Memory".

---
Nova Rockafeller Premieres "1990s" Lyric Video

Canadian lazer-tag enthusiast/dirtbag rapper Nova Rockafeller (Island/Def Jam) presents her self-made lyric video for her single "1990s." Nova pulls influences from everything between Busta Rhymes to Weezer. "1990s" is the first single off of her upcoming EP, and will be available for purchase on iTunes this spring.

---
Vincent Poag Releases New Album FOR THE GIRLS

Singer/songwriter VINCENT POAG has released his sophomore album For the Girls, officially available on iTunes now. The album reflects Poag's untethered artistic soul, traversing pop, jazz, country, balladry, world-music, and poetry. Fans can stream "Scarlett and Me" and can order the rest of the album on iTunes now.