The Grande Bois: Meltdown
Ah, yes. It was on another night that you and I were driving through Elkhorn, Wisconsin.

We missed a road sign, took a wrong turn and got lost on Bray Road. It was a dark and stormy night. Wipers were swishing fast to keep up with the pelting rain and the gas tank was draining fast. We sat huddled together, fearing the unknown, driving on and on through the darkness. We thought it was the end.
---
---
DIAMANTE PREMIERES OFFICIAL "BURNS" MUSIC VIDEO
PEAKS AT #6 ON BILLBOARD HOT SINGLES
NOW AVAILABLE ON iTUNES

Rising artist Diamante released the official music video for her ballad, "Burns." The video features reenactments of love lost and the pain that follows a broken heart. The song is co-written and produced by Kevin Savigar (Rod Stewart, Daughtry) and available on iTunes. "Burns" charted at #6 on Billboard's Hot Singles, while her previous single, "Savage," is back at #5.

Diamante is not new to receiving praise. She scored two wins at the 2013 Indie Music Channel Awards and at only 17 years old, she took home Best Rock Record for two years in a row. In 2012, Diamante was also the winner of the Indie Music Channel Awards' Best Young Rock Artist, Best Rock Recording, Best Music Video, and Teen Artist of the Year.

---
---
JOAN JETT & THE BLACKHEARTS PREMIERE OFFICIAL VIDEO FOR "ANY WEATHER"
New Album Unvarnished Available Now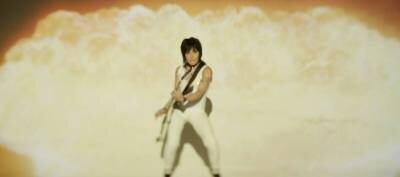 Rock n' roll icon JOAN JETT & her Blackhearts have unveiled the anticipated official music video for the single "Any Weather," which comes via her newly released album Unvarnished. Joan is fresh off the heels of her surprise performance at iHeartRadio Festival and her intimate record release show at Santos Party House in NYC. The new video - directed by Kevin Kerslake - was shot in Los Angeles, CA, and showcases a never-before-used camera technique to give the production a raw and classic aura. Joan has said that Unvarnished is the most introspective album she's ever done. While still keeping to her signature sound, Jett observes her own life as well as life around her.

---
NIRVANA "CREATE YOUR OWN POSTER" APP NOW LIVE!

Fans Can Create Their Own In Utero Poster For a Chance to Win a Kurt Cobain Mustang Guitar!


In celebration of the newly released In Utero 20th Anniversary re-issue, fans will have the opportunity to create their own poster for a chance to win a reproduction of Kurt Cobain's Fender Mustang. The contest will be open to fans across the globe, with one U.S. first prize winner and one international first prize winner. Three second prize winners will receive a limited edition In Utero litho & uncut proof sheet, and ten runners-up will receive one of the new In Utero 20th Anniversary t-shirts.




The In Utero 20th Anniversary Re-Issue is re-mastered and now available on CD, 2CD Deluxe, 3CD + DVD, Super Deluxe Box Set, and 3LP Vinyl Edition.
---
---

Learn the Art of Double Picking
So, you want to learn the art of double picking, that magical string stroking that makes it all happen. Well, you can and it's not as difficult or mysterious as some people think. With time and effort you'll wow and amaze your family, friends, fans and the grouchy next door neighbors.
Apache 65: Kingdom
Of The Snake
Welcome to Kingdom Of The Snake. Psychedelic surf? Yes, some of that. Spaghetti? Most definitely. Soul? You get that, too.

Let me go on record, though, as saying Apache 65's DNA is Surf Noir at its tightest, darkest, most incredible foundation.
---
Schizo Fun Addict:
Theme From Suspiria
Fruits de Mer Records is at it again, bringing us another cool, delectably bizarre 7" vinyl, with tunes by Schizo Fun Addict.

Theme From Suspiria features off-kilter versions of tracks from two cult films, "Suspiria" (the highly-rated but rarely-watched 1977 Italian horror flick with a soundtrack by Goblin) and Russ Meyer's 1970 "Beyond The Valley Of The Dolls."
---
Dot Hacker to Release 7" for Record Store Day

With Record Store day less than a week away, Dot Hacker will release a special 7" on April 19th via ORG Music, limited to 1,000 copies worldwide. The 7" will feature two tracks, including their most recent single "Whatever You Want" which you can preview HERE. The record will also feature one other track entitled "Memory".

---
Nova Rockafeller Premieres "1990s" Lyric Video

Canadian lazer-tag enthusiast/dirtbag rapper Nova Rockafeller (Island/Def Jam) presents her self-made lyric video for her single "1990s." Nova pulls influences from everything between Busta Rhymes to Weezer. "1990s" is the first single off of her upcoming EP, and will be available for purchase on iTunes this spring.

---
Vincent Poag Releases New Album FOR THE GIRLS

Singer/songwriter VINCENT POAG has released his sophomore album For the Girls, officially available on iTunes now. The album reflects Poag's untethered artistic soul, traversing pop, jazz, country, balladry, world-music, and poetry. Fans can stream "Scarlett and Me" and can order the rest of the album on iTunes now.

---
The Dough Rollers Release New Single "Mansion On A Hill"

The Dough Rollers announce the release of brand new single, "Mansion On A Hill," off of their five-track EP Gone Baby Gone, out now on Third Man Records. "Mansion On A Hill" was produced by Josh Homme of Queens of the Stone Age. The new single highlights the indie-rock side of the group, with catchy guitar riffs and smooth vocals.

---
Diamante Covers "We Belong" Originally By Pat Benatar

Emerging artist Diamante released her cover of the 1984 hit "We Belong"- originally by Pat Benatar. The cover is a live performance filmed in Hollywood and features Kyle Puccia on piano.

Diamante recently released her official music video for the single "Burns" which features reenactments of love lost and the pain that follows a broken heart. "Burns" charted at #6 on Billboard's Hot Singles, while her previous single, "Savage," is peaked at #5.